SPOILER WARNING

---

May contain plot details

Jude and Taryn, is the siblings/annoyed at each other/friendship relationship of Jude Duarte and Taryn Duarte. 
Relationship
History
Taryn has been like a right hand to Jude, her twin sister, all these years even though, they are different from the other. Taryn sweet and gentle, she just wants to stay low key and dreams of a marriage to help her stay in Court.
Over the years, Taryn and Jude were inseparable, always consulting and protecting the other at all costs.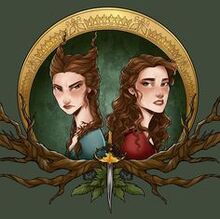 During The Cruel Prince, Jude discovers that Taryn doesn't give her the same devotion Jude shows her. Slowly, both of them begin to grow further and further apart.
This is because of Locke playing both the sisters. Locke was seeing Taryn and Jude at the same time but only Taryn knewn he was seeing the other sister. Taryn confesses she hated that Locke messed around with Jude, but her distaste was more focused on her sister. Even after everything Locke has done to the both of them, Taryn continues to choose Locke instead of siding with her sister, saying that Jude never cared for Locke and that he was just another thing to take from Cardan.
tba.
Triva
tba.
Community content is available under
CC-BY-SA
unless otherwise noted.