The Folk of the Air is a young adult, fantasy trilogy written by Holly Black. The series follows Jude Duarte, a mortal girl, who gets tangled in palace intrigues while trying to win a place in the treacherous High Court of Faerie, where she and her sisters have lived for a decade.
Books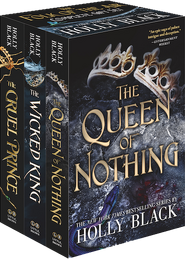 Main Series
Companions books
Extra Content
A Visit to the Impossible Lands (Exclusive Barnes & Noble, 2018) 
Deleted scene from The Wicked King (Barnes and Noble edition)
Cardan's letters to Jude (Queen of Nothing Barnes and Noble edition)
Deleted scene from The Queen of Nothing (sent via Holly's official newsletter)
Overview
Jude was seven years old when her parents were murdered and she and her two sisters were stolen away to live in the treacherous High Court of Faerie. Ten years later, Jude wants nothing more than to belong there, despite her mortality. But many of the fey despise humans. Especially Prince Cardan, the youngest and wickedest son of the High King
To win a place at the Court, she must defy him–and face the consequences.
In doing so, she becomes embroiled in palace intrigues and deceptions, discovering her own capacity for bloodshed. But as civil war threatens to drown the Courts of Faerie in violence, Jude will need to risk her life in a dangerous alliance to save her sisters, and Faerie itself. 
You must be strong enough to strike and strike and strike again without tiring. The first lesson is to make yourself strong.
After the jaw-dropping revelation that Oak is the heir to Faerie, Jude must keep her younger brother safe. To do so, she has bound the wicked king, Cardan, to her, and made herself the power behind the throne. Navigating the constantly shifting political alliances of Faerie would be difficult enough if Cardan were easy to control. But he does everything in his power to humiliate and undermine her even as his fascination with her remains undiminished.
When it becomes all too clear that someone close to Jude means to betray her, threatening her own life and the lives of everyone she loves, Jude must uncover the traitor and fight her own complicated feelings for Cardan to maintain control as a mortal in a Faerie world. 
After being pronounced Queen of Faerie and then abruptly exiled by the Wicked King Cardan, Jude finds herself unmoored, the queen of nothing. She spends her time with Vivi and Oak, watches her fair share of reality television, and does the odd job or two, including trying to convince a cannibalistic faerie from hunting her own in the mortal world. 
When her twin sister Taryn shows up asking of a favor, Jude jumps at the chance to return to the Faerie world, even if it means facing Cardan, who she loves despite his betrayal. 
When a dark curse is unveiled, Jude must become the first mortal Queen of Faerie and uncover how to break the curse, or risk upsetting the balance of the whole Faerie world.